Why volunteer? Why not? A meals on wheels volunteer, Barbara Carduff, shares her reasoning:
"I work at Schuylkill Medical Center South and a coworker of mine volunteers for Meals on Wheels and said they were in need of someone in Shenandoah[, Pennsylvania,] for Wednesdays. My daughter, who is a nursing student, was off from classes that day so we thought, why not?
"I requested Wednesdays off from work and we even got my husband involved. He's usually our driver (which suits him because he is a truck driver by trade), but has also done the meal runs on his own when needed. If one of us can't do it, we're there to cover for each other.
"My family and I love the clients and helping people in need. And they appreciate it sooo much!
"My typical day involves arriving at the Shenandoah Senior Community Center. Our food carriers are waiting for us with a list of our clients. We deliver a hot meal, a frozen meal for the next day, bread, milk, fruit and sometimes the newspaper for certain clients. The seniors receiving the meals are so grateful. On occasion, we do a little something extra for them like dropping off a prescription to be filled or taking out someone's garbage. Those types of things are my choice—it's not expected of volunteers. I just want to do those things because we become so attached to the people we are serving.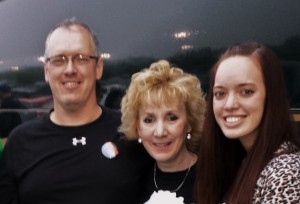 "We have our run down to a science! There are no special abilities required; anyone can do this to help others and give back to the community. We've always been a family that helps when we can, especially being in the health care field. And it's such a rewarding feeling that you can put a smile on someone's face and they put a smile on yours!
"Volunteers are the backbone of Meals on Wheels. Without volunteers, [the program] wouldn't exist. It's a small amount of time out of your day to help feed people in need. And we work together to help each other. If you have an unexpected commitment on the day you are scheduled to deliver, they are more than accommodating to find a replacement."
So … why not? Why not volunteer?
***
Meals on wheels programs are designed to provide nutritious hot and cold noontime meals to homebound individuals. The program not only provides short-term assistance to individuals recuperating from surgery or illness, but also offers longer-term service for those who qualify.
In Schuylkill County, Pennsylvania, Diakon currently has more than 230 volunteers who spend about 500 hours a month with clients, serving approximately 6,000 meals over those 30 days. If you live in any of the areas listed below and are saying why not?, too, please contact us (570)624-3023.
•    Barnesville, Coaldale, McAdoo, New Philadelphia, Port Carbon, Shenandoah and Pottsville, Pa.
Because we review comments, they do not appear immediately. Please do not submit each comment more than once. Please review our comment policy.