Crossing the finish line…stronger and more confident
Girls on the Run for third- through fifth-grade girls and Girls on Track for sixth- through eighth-grade girls are non-competitive, curriculum-based programs designed to build self-respect and educate participants about issues affecting girls every day.
The girls play fun games to encourage physical movement with each lesson centered on an age-relevant theme such as healthy nutrition, gossiping, bullying, and how to stand up for yourself. The girls complete a community-service project and participate in a non-competitive 5k race, the culminating event for each session of the program.
Here are comments from mentors and the council director about the current program….
"The weather has become colder and the girls are not as thrilled to go out in the wind and cold air, but the enthusiasm that has spread among the girls is fantastic. I love the energy they all have! This weekend we talked a lot about the great traits we all have that make us special and unique at the same time.
"The girls loved signing their notebooks for one another and reading what was said in them. I can see that the girls are growing closer and closer together every week. There is a bond that is developing and creating friendships. I have gotten closer with Genise (my mentor) and realize what an amazing and caring women she is to others. It has been a growing experience for all!  'Girls on track…we've got your back!'"
—Denise
Girls on the Run Mentor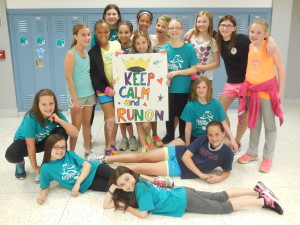 "The program is a great way to involve girls in learning about how to live a healthy lifestyle, both physically and emotionally. From the start of the program until now, about halfway through, I feel as if we are our own family. The girls are helping each other, encouraging each other and show a sense of enthusiasm toward running and being together. Our girls are very enthusiastic and cheerful! They are chatty and love to share ideas and be helpful.
"Six of our girls participated in the Winter Lights Spectacular Fun Run at the Lehigh Valley Zoo this past Friday. They had a blast! Also, the girls are working on making Christmas ornaments and putting together little gift bags for "Snowman Soup" to sell next week at conferences."
—Gwenn
Girls on the Run Mentor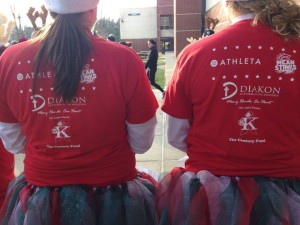 "I have been out visiting several of our fall Girls on the Run and Girls on Track sites. The girls are having a great time and learning a lot about themselves, one another, and their community.
"One visit in particular was to a location at Broughal Middle School in Bethlehem. The girls talked about collaborative leadership during their lesson. This is a tough concept for adults to grasp let alone 11- and 12-year old kids! To demonstrate the idea, the girls had to stand in a circle and put their hands in the middle, each hand grabbing a different person's hand, creating a 'knot.' The girls and their mentors had to figure out how to 'untangle the knot' without anyone letting go! There was a lot of twisting, turning, laughing and a few good leaders who got everyone on board with their ideas about how they could accomplish the task. It was so much fun to see them work through it together! I'm looking forward to watching these girls run across the finish line in just a few weeks at our Fall 5K – the Candy Cane 5K in Bethlehem."
—Liz Fones
Girls on the Run Lehigh County Council Director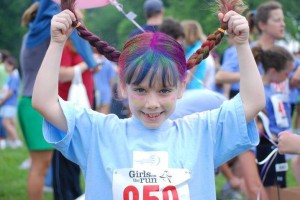 Because we review comments, they do not appear immediately. Please do not submit each comment more than once. Please review our comment policy.