Prompted to share a passion for writing
Several months before moving to Cumberland Crossings, our daughter Melissa accepted the position of marketing manager. To support her new role, I scheduled a tour, thinking it was the perfect time to do some research on retirement communities. At the same time, my husband developed a second serious heart issue (both, by the way, have since been resolved – whew!), one of which would require surgery. While he was waiting for the surgery, he was suffering from a serious case of cabin fever, so I invited him to join us.
On the day of the tour, we drove from Susquehanna Township and hopped onto Melissa's golf cart to tour the senior living community – she showed us several types of cottages, explained the rates, described the amenities, etc. We fell in love with the campus and the cottages, and after researching other continuing care retirement communities, we kept coming back to Cumberland Crossings as our first choice. I tell everyone that we pushed the "fast forward button" on our lives! We downsized, and we never looked back.
Once we were settled, I accepted the role of Hospitality Coordinator on the Board of the Residents' Association. For three years in that role, I took my marching orders from none other than Melissa, who I worked with as she brought prospective residents onto campus. When the prospects chose to join us for dinner, I would host them with other residents to answer any questions they may have to give them a current independent living resident's perspective. Little did I know I'd be "working" for my daughter at this age!
Once new residents moved in, I had the opportunity to interview them and prepare a biographical sketch which I then shared with all the residents. This helped everyone in our community get to know our newest neighbors and, importantly, indulged my other passion…writing.
For approximately the last 15 years, I've dabbled in creative writing by taking a few classes and joining a writing group which blossomed into facilitating a Creative Writing Workshop on our senior living campus. It's been offered to personal care and skilled nursing residents for the past four years.
Receiving a note from the son of a resident who was attending these sessions was all the confirmation that I needed to know that what I was offering was enhancing this particular resident's life. Here is an excerpt from his note:
"I wanted to write to tell you how much my mother loves your writing class. Every time I come, she wants to show me the prompt you have provided and what she wrote in response to it. Thank you so much for making the time to provide this valuable service."
When the pandemic hit and having so much time on my hands as we all did, I had the opportunity to put into motion a longtime dream of mine to turn my work into a textbook that could be utilized in senior living communities as an activity addition to bingo and crafts. 
Having accumulated quite an abundance of material, I decided to approach Diakon and ask them to partner with me to transform these materials into a creative writing textbook that could be shared with residents on all of their eight campuses who may want to release that creative muse that they hadn't suspected was sitting on their shoulder, waiting to be released. At the time of this blog post, the booklets are being printed and will be sent to each activities department at all the Diakon communities.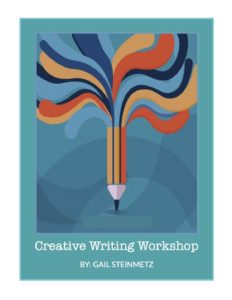 I hope this textbook provides a creative outlet. Oftentimes a resident will shy away from attending a writing workshop, saying: "Oh, I'm not creative, or I'm not a good writer."
My response? Just bring your imagination; that's all you need! If you keep an open mind, maybe some of these materials will take you back in time or perhaps help you to embark on an imaginative journey without ever leaving the comfort of your seat.
Gail Steinmetz, Cumberland Crossings resident
Because we review comments, they do not appear immediately. Please do not submit each comment more than once. Please review our comment policy.