The girl who liked "hillbilly" music
Diakon staff member Anita Bussard, an administrative assistant on the Robinwood Campus of Diakon Senior Living – Hagerstown, supports the organization in a number of ways—including arranging for various entertainers to visit the senior living community for residents to enjoy. Her background has positioned her well for this unique contribution!
Growing up in the late 50s and early 60s, the high time of rock 'n' roll, doo-wop, and swing, I was referred to as "the girl who liked 'hillbilly' music."
Classmates, as friends, were few but my admiration and love for the music never stopped.
My father, Robert P. Gearhart, was a traditional country admirer, with Roy Acuff, Grandpa Jones, Kitty Wells, Jean Shepard, Hiram King Williams (Hank Williams Sr.), Webb Pierce, and many others among his favorites. My mother, Joan Gearhart, leaned toward the honky-tonk clear sounds of Faron Young, Max Powell, and Bill Anderson (in photo with me below).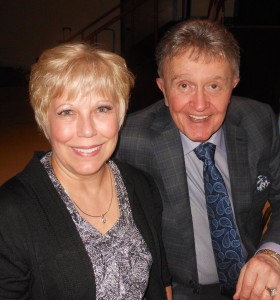 My brother, Robert D. Gearhart, would have nothing to do with "hillbilly" music; for him it was all soul. Therefore, I had to listen to all types of music and learn to appreciate everything from bluegrass to soul, Bill Monroe to James Brown.
Weekends were always family time. If we were not going to the river to fish and swim, we were in the car driving to Nashville in all types of weather. I remember, as a child, standing in a line that would go around the Ryman Auditorium, the "Mother Church of Country Music," eagerly waiting for the doors to open.
On Sundays in the summertime my parents and I would attend concerts at Williams Grove Park, which is now abandoned. Al and Jean Shade, who are country music artists, managed the park for several years. They booked artists such as Loretta Lynn, Bill Anderson, Conway Twitty and many, many more at the park. (The photo at top shows Loretta Lynn and her sister, Peggy Sue; a friend of mine, Betty Myers; and myself.)
These were always great times because we would arrive early in the morning, ride the rides and then pay $4 to see two shows the same day! Imagine seeing Loretta Lynn or Conway Twitty for $2 a show!
When the shows were over, the artists always came out, signed autographs, posed for photographs, and just talked. It was nothing for the artist to come over to our table and grab a bite to eat. In fact, none of this was a big deal—it was just people enjoying being with one another other and not having to worry about stalkers and crazy fans as they do today.
My parents were amazing and insisted that I learn and use manners all the time. They coached me on my behavior around entertainers and how to respect the people and their talents.
My father was unique—and that is putting it mildly. Without going into details, I can tell you that he was awesome at making fake press badges and teaching me the ropes of the concerts. In fact, as I write this, I am beginning to remember so many funny things.
For example, there was the time my dad hid my mother behind a soda machine as he and I left the Ryman after the first show. When the Ryman doors opened for the second show, Mom jumped out from behind the machine and sat down in the front row, saving seats for dad and me.
Another unique experience was in 1966 at Sunset Park when Brother Oswald (Pete Kirby) was charging a small fee for people to see Roy Acuff sleeping in his car! But enough of that! I cannot give away all the Gearhart secrets.
Other memorable events include eating at a Barbara Fritchie restaurant with a well-known entertainer; sitting on the Grand Ole Opry stage numerous times watching the show or just talking to the many different artists behind the opry stage; dancing with my father at a show while Jay Lee Webb (Loretta Lynn's brother) sang; spending an Easter with Loretta Lynn at her home in April of 1968 (pictured in the photo below); and having had several entertainers at my home.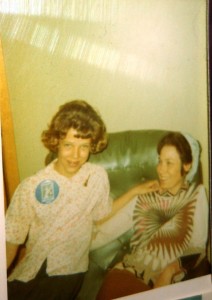 I remember when Peggy Sue (Loretta's sister) and Loretta wanted me to sing on The Wheeling Jamboree while my dad played the harmonica. Loretta thought everyone could sing until she heard me ….
On the other hand, my dad could play a mean harmonica.
Our home was never without music. The radio or record player was always on, sometimes both. Many evenings my dad would play the harmonica or guitar while I played the guitar and attempted to sing. My father could sing and when folks asked me if I could sing, I'd reply, "I can't carry a tune in a bucket because my bucket has a hole in it!"
Folks, that is the truth, I cannot sing a lick.
But I feel very fortunate to have met so many different artists and to call some of them my friends. I am blessed that my parents believed in and taught me manners and respect. And I consider myself a huge supporter of music and a supporter and promoter of traditional country music.
I am truly grateful that I have been afforded the opportunity to do this for the residents we serve.
—Anita R. Bussard
Administrative Secretary
Diakon Senior Living – Hagerstown
Because we review comments, they do not appear immediately. Please do not submit each comment more than once. Please review our comment policy.