A fun night out that sheds light on adoption
You are the bows from which your children as living arrows are sent forth.
— Kahlil Gibran
Blessed are the families who care for children whose parents are unable to rear them. My husband and I have a deep appreciation for all those who find homes for children who need them.
But the organization that puts parents and children together needs funds to perform this grand task. The parents who lovingly welcome these children need funds to support the healthy growth of these children. We are dedicated to helping raise some of that financial support and one of those ways is through a delicious fundraiser called Dining with Diakon.
The folks at Diakon are a dedicated group of really, really good souls. Everyone we have come in contact within this organization—and all the adoptive parents we have met in the five years we have been involved with Diakon—are in this for the most noble of reasons. They are all doing God's work.
Mike and I always chose a dessert to serve at Dining with Diakon because I selfishly get to see everyone at the event (often twice) that way! In fact, I was making a purchase recently and the fellow who took my credit card recognized me from last year's event. Cool beans.
Community. Love that.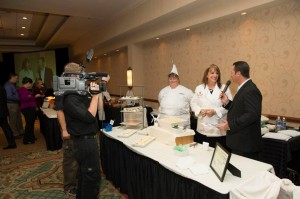 Through this event I have been cooking on TV with Kathy Craine, was able to provide chiropractic assistance to a national college wrestler champion, met a nationally recognized football coach who changed the face of high-school integration—and met some really cool adoptive parents.
We also held an outdoor movie night in our backyard and hosted "Wine and Canvas" nights at which I discovered my husband had some mad skills as a painter (he painted "The Scream")—who knew?
Participating in the Dining with Diakon event has been a blast and a rich addition to our lives. Helping others while also having fun. What a super-cool concept!
Dr. Christine Caverly
Caverly Chiropractic Clinic
Dr. Christine and her husband Mike will be guest chefs at the October 16 Dining with Diakon event in Fogelsville. Their recipe is Pumpkin Custard Cinnamon Fritters. Click here for more information.
Because we review comments, they do not appear immediately. Please do not submit each comment more than once. Please review our comment policy