Don't let your "but" stop you
Cayden Roth, 12, launched a fundraising campaign from mid-January to mid-February, netting $2,000 for Diakon Adoption & Foster Care and the Diakon Youth Scholarship fund.
Cayden was placed with his forever family, Lori and Stephen Roth, through Diakon at 13 months; his adoption was finalized in 2011.
"Cayden has a history of fundraising for our program and donating other supplies to our children in care," says Joyce Riche, M.A., director of permanency services at Diakon Adoption & Foster Care's Topton office.
In commemoration of the 10-year anniversary of his adoption finalization, Cayden had wanted to donate some of his own money to Diakon. He and his mother discussed the idea and decided that if he invested some of his own money, he could make enough to donate even more. So he used $250 to buy 25 signs. He sold all of them, for a total of $500, within a half-hour of his initial Facebook post. He then bought 100 more to sell. Cayden did most of the delivery and installation of the signs himself. The signs proclaimed: "You Are Loved – Happy Valentine's Day!" and "Foster Love" with a pair of cupids.
Recently, Scott Habecker, Diakon president/CEO, hosted Cayden and his mother for a thank-you lunch. Below, Cayden recounts their discussion.
​One of the good things Scott and I talked about was the importance of stewardship. When you're in charge of collecting money to help someone else, you have to be mindful that most of the money collected goes to help who you want to help.
​This fundraiser taught me to check the price of buying more! I paid $250 for 25 signs, and after running out, I reordered 100 signs for the same cost. It benefits to buy a lot more—that was a good lesson from this fundraiser.
​I also learned about the frozen ground in February; I hadn't thought about that. Every time I went to put a sign in the ground, it was frozen!
​I learned you have to adapt your plan. You may have a definite plan, but it can change. People bought these signs for Valentine's Day, and I placed the signs in the yards of the people receiving the gift, then texted them to tell them it was there.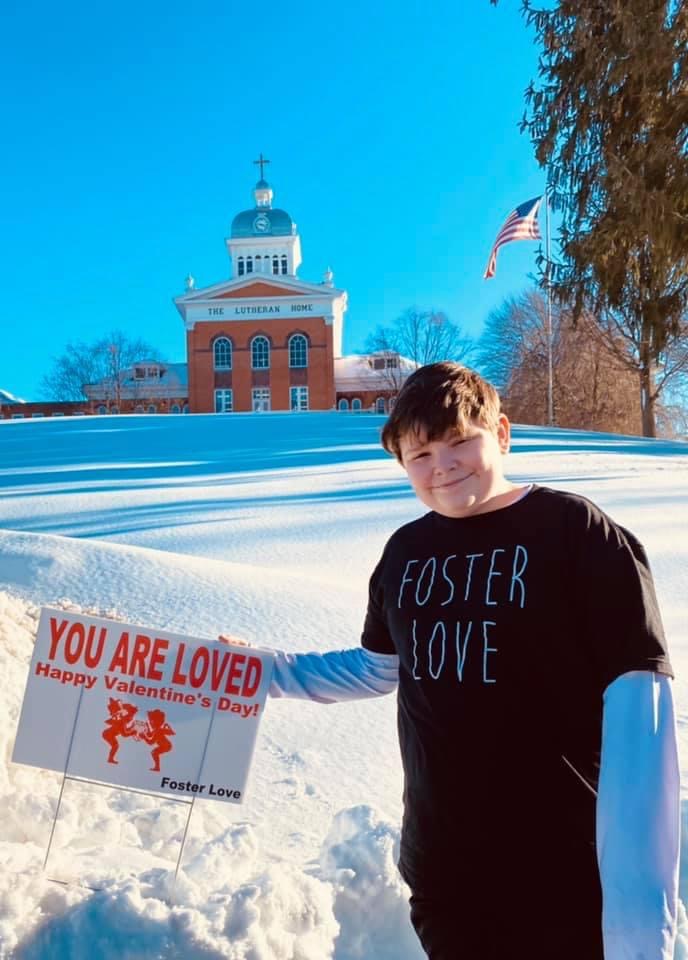 ​But many people bought them to honor health-care workers during the COVID-19 pandemic. My mom helped me navigate administration at Lehigh Valley Hospital and St Luke's Hospital, and someone from St. Luke's even met me personally to help place the signs. They did a whole social media post about it, too. So that was an unexpected positive, a really nice surprise.
​We had limited the distance we'd travel to place the signs to about a half-hour's drive from our home in the Lehigh Valley. But Diakon liked the idea that staff asked to post it on their social media pages, promoted the signs and then delivered them in the York area!
​Scott and I talked about how to pick a job and what to study, and he shared his own experience with us. I like math and am in a class two years above my grade in school. I jumped ahead to algebra and then it was virtual school because of COVID-19, but I did very well with it. Scott also likes math and talked about how it helps in a lot of different ways, because having an analytical mind helps in many situations.
​I think I want to have a job in computers; they really interest me.
​Scott and I also talked about video games and how online gaming was the only connection I had, not being in school with my friends because of COVID. But the video games became more of a distraction at the end of the school year than in the beginning and my grades suffered, so I had to get them back up and on track.
​Scott and I talked about the future. I'll be going into seventh grade, and I want to keep helping Diakon in the future with my fundraising activities. I want to do fundraising in a way that is responsible and promotes stewardship. I made a small initial investment and all the money went to Diakon. You have to strike a balance, get the message out there and promote it in efficient ways.
​I was shocked the CEO would take time out from his busy schedule to have lunch with a kid. It's the investment of his time that means the most—time is so valuable.
​Diakon nominated me for the Youth Advocate Award given by Pennsylvania's Statewide Adoption & Permanency Network—typically called SWAN. I won and wrote and gave a speech at the awards presentation June 16.
At church a few days before that, the pastor talked about how everybody has a big "but" that stops them from doing things they want in life. That led me to think about what he said relating to my fundraising project and I talked about it in my speech: "But" we're in the middle of a pandemic, "but" I'm just a kid myself, "but" I have only $250. 
Don't let your "but" stop you from helping people and doing what you want.