I LOVE to cook and have some of the best memories growing up as a kid cooking with my family.  I used to spend countless hours with my siblings, mom, grandma, and cousins making homemade Pennsylvania Dutch chicken corn soup. We made everything from scratch including my favorite part…the rivels! As I grow older, I'm excited to carry on the tradition of cooking this with my family and friends! It was a no-brainer when I decided to become involved with Dining with Diakon. I enjoy cooking so much, I figured why not be a part of an event that includes cooking while benefiting a non-profit organization at the same time?
I attended my first Dining with Diakon event in 2010. It was so much fun! Between the delicious recipes, silent auction items, live entertainment, and great networking opportunities, I decided to join the Dining with Diakon planning committee.
After sitting on the committee for a few years, I decided to visit the Diakon Wilderness Center so I could learn more about who is benefiting from the money raised at this charity event. I had the chance to tour the campus in Boiling Springs, Pa., including the Wilderness Greenhouse and had the opportunity to meet some of the students involved in the variety of programs they offer.
One student shared with me her struggle at a young age with drugs and thought it was "normal" since that's what everyone was doing around her.  It wasn't until this particular student entered the program that she learned there is more to life than drugs. She has dramatically turned her life around, wants to be a better influence on others around her, and now has the power to say no when put in a challenging environment—thanks to everything she learned at the Wilderness Center.  She told me she not only wants to come back to volunteer at the center, but also wants to go to college to become a social worker or counselor to help other kids her age know they can be something more in life.
The only words to describe what I thought would be just a typical tour of a facility are "life-changing" and "inspirational." Diakon doesn't just provide a program for troubled youths to attend; they provide an opportunity for youths to find courage to become something more than they ever thought possible!
The stories I heard from students that day were so inspiring and filled with hope. It touched me so much that I knew from that moment, I wanted to be a Guest Chef for the 2014 Dining with Diakon event.
Yes, being a guest chef is a great opportunity for my business to gain additional exposure, but being involved means so much more to me than that! It allows me the opportunity to host several fundraising events, where I can share what wonderful things this program offers to kids who need this type of guidance! I may not raise the most money at the event April 2, but the fact that I have been able to share information about Diakon Youth Services to so many people has made this entire experience so valuable.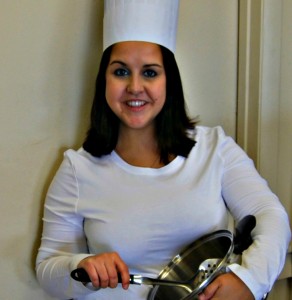 Dining with Diakon Celebrity Chef
Konhaus Marketing & Communications


Because we review comments, they do not appear immediately. Please do not submit each comment more than once. Please review our comment policy.