Changing lives and pursuing dreams
Tomorrow is #GivingTuesday and we have launched a campaign to raise funds and awareness for our Wilderness Challenge program at the Diakon Wilderness Center in Boiling Springs, Pa. Our modest goal for our #GivingTuesday campaign is $5,000 for needed Diakon Wilderness Center equipment and when we reach that goal Diakon President/CEO Mark Pile will take a #LeapofFaith off the high-elements ropes course!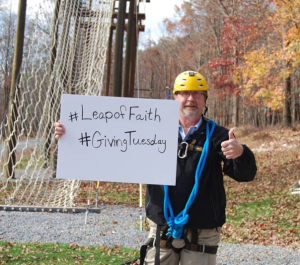 Typically serving youths who have been adjudicated delinquent or dependent by county juvenile courts or children and youth services (but willing to consider private referrals) and more recently serving young adults ages 18 to 25 from the adult justice system, Diakon Youth Services offers a wide range of programs designed to help young people become productive, contributing members of society.
"It was absolutely life-changing. It was, by far, the hardest, most physically and mentally challenging thing I've ever done in my life."
That's how "Bill," a 23-year-old, describes his experience in the Youthful Offender Program, a 30-day wilderness-based service offered by the Diakon Wilderness Center.
Developed in conjunction with the Bucks County probation office, the program targets first-time, non-violent offenders ages 18 to 24 facing a felony conviction. If they successfully complete the program, the felony is reduced to a misdemeanor, giving them a second chance at turning their lives around.
Program participants spend 30 days living outdoors, where they complete challenging physical and emotional activities under the guidance of specially trained staff. Throughout the experience they share responsibilities, learn problem-solving and communication skills, and overcome fears as they create a foundation for their successful return to home and community.
"I came into the program with a positive mindset, not addicted to drugs," Bill says. "I had already begun the process of changing."
"It has given me the ambition to pursue my dreams."
Because his accomplishments were so rewarding, Bill did not want to take a step backward following program completion. "I didn't want to forget what had happened on the Youthful Offenders course, what I had learned," he says. "I wanted to keep it fresh."
The answer was Diakon's Flight Program. This voluntary, award-winning program provides opportunities for young adults served by Diakon or similar programs but who have aged out of eligibility for referral to juvenile services. Since its creation in 2009, Flight has helped many at-risk youths to obtain college educations and meaningful employment.
The program is a good fit for graduates of the Youthful Offenders Program and currently includes four who have completed the course, says Matt Reichard, manager of the Flight Program.
"They are dealing with the same kind of struggles or temptations, when it comes to drug and alcohol history, as the other participants," he says. "They keep one another accountable. They call, text or check-in with each other."
Traveling from Bucks County to Carlisle every other weekend to share meals, talk about the good and bad things that have happened, to share constructive criticism, and to participate in community service projects with other Flight members has made him more accountable, Bill believes.
"It is quite a trip for me to come out here," he says, adding that planning something and following through on it is a big achievement. "Prior to the Youthful Offenders course, I had trouble keeping dates, appointments and plans."
Today Bill is employed full-time and has re-enrolled in college, something just a short time ago he didn't think would be possible for him.
"Being part of the group, talking, doing the things we do are probably the most important aspects of Flight," he says. The program "has given me the ambition to pursue not only the goals I set previously, but also my dreams."
Part of Diakon Youth Services, the Diakon Wilderness Center has been a leader in providing specialized, outdoor-based services for youths from across Pennsylvania since the 1980s. Located on 170 mountainous acres near Boiling Springs, Pa., the center provides month-long wilderness challenge-based experiences, a weekend program designed to help young people avoid the temptations of their home environment Friday through Sunday, an alternative-education day treatment program along with community case management services. You can help support these programs by clicking here.
Because we review comments, they do not appear immediately. Please do not submit each comment more than once. Please review our comment policy.