Adoption has always been something that my husband, Tim, and I knew would be part of how we would build our family. It just didn't happen exactly as we planned.
Tim and I knew we wanted to have biological children first; later in life, we would adopt. I am a planner—and this was my plan.
What we didn't expect was that having biological children would be so difficult. After my having had three miscarriages by the age of 22, we decided to see a fertility specialist, who suggested genetic testing. We learned that I had an autoimmune disorder that was likely the cause of the pregnancy losses.
While all of this was occurring, we had begun the process of becoming foster parents with Diakon. We knew we wanted to start our family and we didn't want to wait.
We received our first placement in February of 2010, a gorgeous little boy who needed a mommy and daddy as badly as we needed him. He was born prematurely, at just 26 weeks' gestation, and had spent his entire life to that point in a hospital—yet that didn't affect his amazing and joyful spirit.
We brought our baby boy home knowing that this was not the end of his medical journey. He was on oxygen, a ventilator, a feeding tube, and required around-the-clock medical care. We didn't mind one bit. He was such a joy and life felt so perfect.
In April of that year, however, he began running a high fever. After a few days in the hospital he passed away in my arms. It had to be the saddest, most awful thing I've ever seen happen, but for those few months he brought so much joy into our lives.
A few months later, we received our second placement: a sibling group of a brother and sister, Hope and Isaiah, just 1 and 2 years old. There is not a day goes by that I don't look at Hope and Isaiah and feel so thankful for the noise and laughter they brought into our then-sad and empty home.
Since then, we have adopted Hope and Isaiah, have had two birth children, Collins and Garin, and adopted another little boy, Brantley.
Life is pretty perfect!
Of course, that is not to say we never experienced challenges. From the time Isaiah was placed in our home, we knew something wasn't quite right. Considering the rough start to life he had been given, he adjusted pretty well. He had been receiving therapy to help with his developmental delays, but something was just different. He was very destructive, never slept, cried a lot, had explosive temper tantrums and was just so impulsive.
We were doing our very best to cope at home, but it wasn't until Isaiah began kindergarten that it became impossible for us to ignore or manage. Isaiah was not learning. He couldn't retain anything that was being taught. His short-term memory didn't exist and he was becoming a huge distraction to his peers. After two years of kindergarten and an exhausted, frustrated kiddo (as well as Mom and Dad) we acquired post-permanency services through SWAN [the Pennsylvania Statewide Adoption & Permanency Network].
Naturally we chose to work with Diakon, as we've had nothing but wonderful experiences with them. Isaiah's pediatrician had believed his physical characteristics, combined with his social, emotional and education situation, were consistent with a diagnosis of a Fetal Alcohol Spectrum Disorder. Another health-care practitioner seemed more focused on a prescription approach than in listening to our concerns.
When we were established with the post-permanency services through Diakon, staff members were able to help us get the help we really needed. In fact, since we began these services, our lives have drastically changed.
We have since pulled our children from a public school that was unable and unwilling to meet the unique needs of our son. We are now home-schooling both Hope and Isaiah and, with amazing success, have decided that approach is the best thing for our whole family.
Isaiah is seeing a team of specialists at St. Christopher's Hospital in Philadelphia who focuses solely on FASDs. Diakon's post-permanency services have provided us with a sense of confidence and constant support. The stress level in our home has lessened significantly and I am so thankful.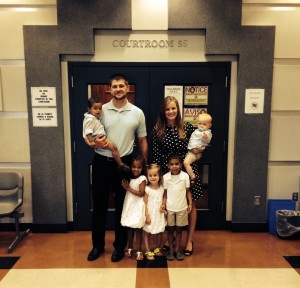 As a whole, we have had a wonderful adoption experience. We have been so blessed to be able to provide a forever home and share our lives with all of the incredible children who have come into our care. There isn't a day that goes by that I don't thank God for choosing this path.
It hasn't been and isn't always easy—but it is always worth it!
Monica Chrusch
Diakon Adoptive/Foster Care parent
Monica also shared this with us…
We are also so thankful we decided to use Diakon as our agency. To this day, I feel I can use them as a resource. For anyone considering foster care or adoption, if you think you can do it, just do it. You will never regret the investment you've made in another life. It is so rewarding and opens your eyes to a world as I believe no other experience can. I meet so many people who say to me that they think some day they'd like to adopt. Why wait for some day? Somewhere out there is a child who needs you—and you may just find you need them, too!
Because we review comments, they do not appear immediately. Please do not submit each comment more than once. Please review our comment policy.