Connections last … even halfway round the world
When he was just slightly more than 4 months old, my son, Carson Riche, left his birth country of Korea and his foster parents there to begin life anew with us—his adoptive family in the United States.
This summer, at 27, he had the opportunity to return to Korea to meet his foster parents. I wholeheartedly supported the idea, because as an adoptive parent and a staff member of Diakon Adoption & Foster Care, I know the value of such a meeting for foster and adoptive children. I knew as well that, while he was too young to remember that period in his life, Carson treasures a photo of himself as an infant with his foster mother.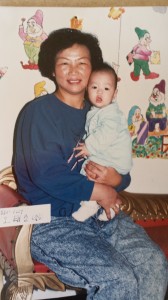 In fact, it's critical to have connections with anyone who has ever taken care of you. For that reason, we have always been open about the adoption. That photo has always been part of his life.
Unlike as in most adoptions from Korea, in which the children are brought to the U.S., my husband, Roy, and I traveled there to bring Carson home. The experience gave us the chance to meet Carson's foster parents there and to see a little of his country firsthand. Our visit there was important to us because we always wanted Carson to feel connected to his heritage, to hold on to that.
At times, he embraced that heritage, at other times not as much.
When was he younger, we put a Korean flag in his room. Around the time of middle school, he took the flag down and put it away. About a week after he went to college at Johns Hopkins University, he asked me to send him the flag. It had become important to him again.
After undergraduate studies, Carson went to the University of Southern California to work on his Ph.D. Nearing completion of work on his doctorate, he had the chance to be part of a "study in Asia" program. In fact, he had a particular interest in finding a program for doctoral candidates with a specific focus in his area of chemical engineering and nanotechnology.
Amazingly, he found it—at the University of Inha, in Incheon, South Korea—the town where he was born.
When he was accepted at Inha, he gathered his adoption paperwork from 1988 and connected with a professor at Inha, registering with a search agency to look for his birth parents.
That step was something he had decided he wanted to take.
Though Carson did not locate his birth parents, he was able to arrange a meeting with his foster parents.
In fact, I had written to Mrs. Lee when Carson was about 1 year old; Mrs. Lee had kept that letter and brought it along when she met with Carson 26 years later. For her to have kept that letter demonstrated to Carson how important he was to his foster parents.
What about our emotions about Carson's search for parts of his past?
Honestly, you feel a million different things, but, in the final analysis, I'm proud of him for what he's done. It was very scary, but I've seen him be very happy through this effort. And that's important.
———————–
At the time Joyce Riche and her husband, Roy, adopted Carson through what is now Diakon Adoption & Foster Care, she worked for a county child welfare office in Pennsylvania. Two years later, they adopted Allison from Honduras. Riche is today a staff member of Diakon Adoption & Foster Care at its Topton office.
Because we review comments, they do not appear immediately. Please do not submit each comment more than once. Please review our comment policy.