Annie paws-es to provide "therapy"
Various research supports the therapeutic benefits of petting cats and dogs. Studies have shown, for example, that interaction with animals can decrease blood pressure, alleviate depression and reduce cholesterol levels.
Maybe that's why one special resident of The Lutheran Home at Topton has captured the hearts of everyone she meets!
In this blog post, Lutheran Home at Topton staff member Loni Boyer shares her story about "Annie"…
Annie was a stray cat that found her way to us in October of 2008. She was extremely thin and desperately looking for food and water.
A resident noticed her hiding in the shrubbery near an entrance and started to save his food—butter beans—to feed her. She was so starved she ate them!
This routine continued until a former executive director discovered two staff members with their heads in the shrubbery, feeding her, too!
At that point, staff members brought the cat into our offices and began to care for her. She was taken to the veterinarian that same day and never left us since. She weighed only six pounds when she found us, but by her next vet appointment weighed nearly 11 pounds.
We became her forever home that day! Currently, Annie lives in the RNAC suite of the Henry Health Care Center. She has free rein, but also knows her boundaries. Typically, you can spot her in the rotunda area, slowly strolling along or visiting a nearby office.
Occasionally, Annie still enjoys bird- and chipmunk-watching from a window or door. Even though our office is directly beside an outside exit, she never tries to leave to go outside. And she voluntarily attends meetings, probably wondering what we could possibly be talking about!
We are not sure of her exact age, but we know she is getting to be quite the senior. Most importantly, Annie is very well-behaved and dearly loved daily by our residents, staff, families, and visitors of all ages.
She enjoys the attention and is excellent therapy for all of us!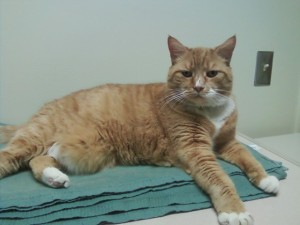 Because we review comments, they do not appear immediately. Please do not submit each comment more than once. Please review our comment policy.